Hi friends!
Remember a few posts back when I blogged about Amanda from
Teaching Maddeness
' HEARALL giveaway, and I mentioned how much I wanted one, and I think I actually called it
my prize
?
Turns out I'm not a liar...I truly won that Hearall Assessment Recorder! Me!!
(haha! eat it suckahs!)
sorry...I can be really competitive sometimes:) And I had entered sooooo many giveaways for one of those!
I'm sure many of you are in the same boat; I apologize, sincerely, for gloating.
teeheehee
In case you care (if you really wanted that prize, you probably do NOT care, so skip a few lines to where it breaks and continue reading), I posolutely L-O-V-E my Hearall! My students are so engaged in "Read to Someone" stamina-building now that they know they will be recorded!
"Big Brother is listening"...sort of:)
And running records are a breeze now that I can hit "Record" and check it off later.
Instead of focusing on those papers, I can focus on the student's reading behaviors, i.e., tracking, looking at picture clues, etc.
You have to get one!!
I currently have a Donors Choose project to add
another
(I'm greedy) one to my classroom for running records, as well as those cool Easi-Speak microphones everyone's blogged about. It expires in November so click
HERE
if you want to help out my class....we would love it:)!!
Or click
HERE
if you want to start your own Donors Choose project but aren't sure how.
It's Easy-Peasy:) They will walk you through it.
Good luck, and let me know if you post one!
Anyway, the real reason for this post is to let you know that Amanda (my new bf, unbeknownst to her) has so kindly taken time away from her uh-mazing ideas to blog about "budding bloggers", like myself. She is featuring little ol' me today:)
So stop by her AWEsome blog and leave me (or her...) some love!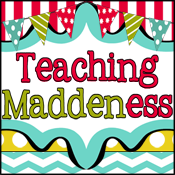 And after reading about me, feel free to peruse her blog for the cutest monster creations on the planet! Her theme is incredible...I almost wish I could be a student in her class:)